So sorry that this didn't go up sooner people!!! I think i underestimated just how busy i was going to be today!! Anyway, onto the sale. Just a few items for sale this month, since there is still quite a bit left from last month. If you would like to order anything from last month to be sent with your order from this month, please include that in your order.
Just a reminder about how my sales work - it's a first in best dressed system,
so have a look at what i've got for sale, then send me an email at kylie.smith@me.com with a list what you would like to order. I'll then email you back with the total including postage, along with my bank details so you can direct deposit the amount. Once payment is received, i'll send your oder your way - couldn't be easier!!!
Now, for the exciting part - for your first order, you get FREE POSTAGE!!!! Also, all orders over $10 will receive a bonus 'ugly button' - that will look something like this:
Onto tonight's sale items. I've gone with a Purple and Blue/Aqua theme this month and i hope you'll be as excited about the outcomes as i am!! Just a note, that the blue/aqua clay is a little see through and a bit motley - that's all part of it's charm though, i think :D
Funky Flowers Set $3.50
Includes 4 'double' buttons (~3cm), 2 paperclip buttons (~1cm) and a large paper/fabric/hand crochet flower (~5cm)
**Also includes 2m of the cotton used for the crocheted flower (not pictured)**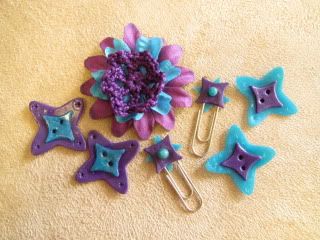 Basic Buttons Set $3.50
Includes 4 large 'double' buttons (~3cm); 4 medium purple buttons (~2cm) and 2 small blue/aqua buttons (~1cm)
Tissue Paper Flower Set $2.50
Includes large aqua scallop flower (~5cm) and 3 smaller blue flowers (1-2cm)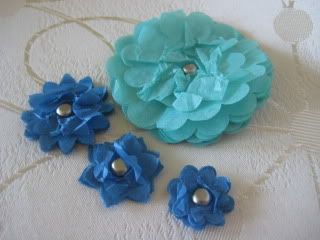 Told you it was a small sale!! Please be sure to check out last month's sale items i case there was something you missed that you need to add :D