Well, December is upon us and hasn't 2012 flown by!!! Escape the stress, by joining me for a class. I'm only doing papercraft classes this month as there is so much to do with Christmas upon us!! Here's the timetable for December, and you can get more information by clicking on the 'home classes' tab up the top.
Our '25 Days of Christmas' mini album class series started last night, and we had so much fun!! We have a lovely bunch of ladies working on this album, and there is still enough supplies for 1 more person, if you'd still like to join us - i can arrange a separate class to catch you up on what you have missed :D I've been busy working on next week's class today and it's looking fab - i'm so excited!!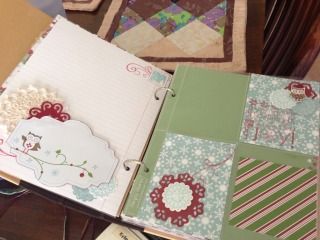 I've added a new class to the calendar this month, and i think it's going to excite you!!! Stampin' Up! have a fabulous range of scrapbooking kits called 'Simply Scrappin' Kits' (pages 167-8 in the catalogue) and i'd love to walk you through them!! I'll be selecting 1 kit each month and creating lovely layouts based on these kits!!! I couldn't resist starting with the "Pinwheels on Parade" kit this month as it's just such a lovely kit, with elements such as pinwheels, banners and artisan tags, which are just a few of my favourite things in scrapbooking right now!!
You can choose from the 'budget' kit, which is $20 and is a half kit, or the 'spare no expense' kit, which is the whole kit and $40 for the class - i will be teaching both classes at the same time and there will be enough to create what i show you in class from both kits, but the 'spare no expense' kit will give you more leftovers to play with when you get home :D
If you'd like to join me for this class (Monday 17th Dec 7:30-10pm) you'll need to let me know by 10th Dec AT THE LATEST so that i can order enough for the class!!
Enjoy perusing the timetable and deciding which class you want to do - or book in for all of them!!