I've been a busy girl creating some fun embellishments for my next sale - and it's going to be this Friday (5th May). I thought i would have it coincide with the
Scrapbooking Top 50 Crafters Markets
!! I'll be posting it here first though - hoping to have it up around noon, so that my blog followers get 'first dibs'.
Here's a little bit of what i'm going to have on sale - very different to what i've had before!!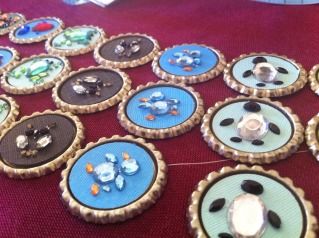 Do you see anything you like? Make sure you check back here on Friday then!! I'm going to be doing lots more fabric buttons and yo-yo's too - i'll be a busy bee with them all week :D
Before i head off this arvo, i just thought i'd give a shout out to the
Scrap The Girls Challenge Blog
- i'm a sponsor there this month!! If you'd like to score a lovely pack of my goodies for free, make sure you're playing along there this month!! The challenge this month is a quote challenge:
"Having a sister is like having a best friend you can't get rid of.
You know whatever you do, they'll still be there." Amy Li
I like this challenge because so many of the challenge sites have mothers day challenges this month - so it's nice to focus on sisters!! Good luck with the challenge and see you Friday!!!